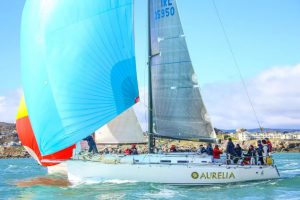 Photo courtesy www.Afloat.ie
Going into the final race of the ISORA Championship series 2018 Chris Power Smith's 'Aurelia' had the series in her sights only to be blocked out by the narrowest of margins.
"Aurelia" took 2nd IRC Overall and 2nd Class 0 but unfortunately "Mojito" survived the doldrums in Dublin Bay and finished ahead of "YoYo" and "Sgrech" to take 3rd IRC Overall and Class 1. This was enough for "Mojito" to block out "Aurelia" from the Championship win by only 3 points – 0.5% of the season score.
Congratulations to Chris and the crew of Aurelia on what was another super season!!
For a full report of the race, click over to our friends at www.afloat.ie