The RStGYC END OF SEASON RACE 2018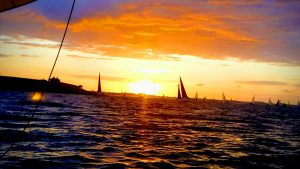 The weather was somewhat unstable on Friday evening 31 August, so the Committee decided that only Lasers and keelboats should head out into Dublin Bay for the End of Season Pursuit race. The course was somewhat unusual, starting with a close reach to Harbour Mark, a long reach to Merrion on which only Peter Bowring in his Dragon, 'Phantom' was brave enough to fly a spinnaker. Then, another reach to Middle Mark which really suited the planing hulls such as FF and Lasers, and a nice spinnaker leg to South Bull. We saw at least three spinnakers flying on that leg. The leg to Seapoint Mark was a close reach followed by a long 1.1 mile beat back to the Committee Boat. Small keelboats and dinghies are not accustomed to sailing on legs so long. At the finish Brian O'Hare crewed by his sister-in-law (thanks to Usail!) in his Flying Fifteen was first boat home at 19.19hrs followed by his brother Gary in a little Laser.
please see below for full results:
Nimble, Brian and Tania O'Hare (Flying Fifteen)
201364, Gary O'Hare (Laser)
Cervantes, Paul Conway (Contessa 32) winner of the Bowring Trophy.
Aja, Jill & Kirsty Fleming & David Johnston (Squib) first Wesail athlete.
190745, Conor O'Leary (Laser) sailing his fifth race of the day having competed in the SB20 Europeans.
Phantom, Peter Bowring (Dragon) flying a 'D for dunce' flag.
Glen Miller, Conor O'Hanlon (Glen) first wooden boat.
Springer, Ian Bowring (Sigma 33).
Lucy O, Aongus O'hEocha (Oceanis 331).
Katie Nua, Tom Dunne (Jeanneau Sunfast).
Nauti-Gal, Jason Crawford (First 310).
Lady Rowena, David Bolger (Sadler 34).
Antix, Derek Ryan (X-99).
Shearwater, Eamonn Doyle (Dehler 36) who sailed reefed down.
Dubious, Peter Richardson (First 28).
Twocan, David Freeman (Shipman 28).
Swallow, Michael Donohoe (Sun 2500) She seems to be the most stable boat in the club!
Plan B, Kieran Kingston (Beneteau 21).
Karukera, Gerry Harvey (First 36S7).
Shipman 514.
Sante, Robin Sykes and his crew of medics (Bavaria 30) all dressed to kill!
Escapade, Una O'Dwyer (Eyghtine) with some bunting for the occasion.
The Den, Aisling Costello (Shipman).
Piper, Brian Darcy (Moody 29).
Conundrum, Michael Pomeroy (Hanse). Perhaps it is a conundrum why he raced with his ensign flying!
Teriblee, The USail gang!
Despite the light fading, the buzz in the clubhouse after racing was something else- the club was full of children and their parents, thanks to Fun Friday. There were barbecues, dinners speeches, prizegiving — the lot!