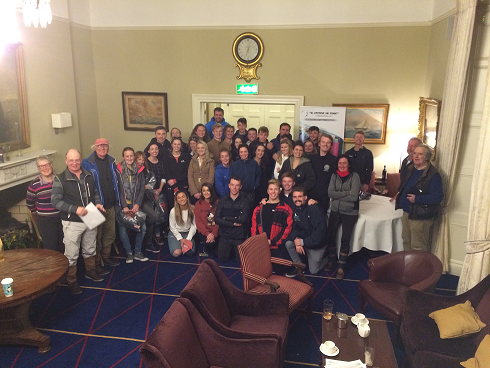 The weather provided perfect conditions for the Adrian Lee & Partners IDRA /ITRA 70th Anniversary Team Racing National Championships hosted by the Royal St George YC in Dun Laoghaire this past weekend. Sixteen teams did battle and each was provided with 14 contests over the course of 124 races at the weekend. It was obvious from the first race that the George Knights were determined to retake the trophy but Oxford Cambridge Sailing Society – an alumni team, was equally steadfast in racking up maximum wins on the first day. Around the fringes, Right Shift Sailing (3rd) which were effectively a Trinity team and Cork1 (4th) from UCC were determined that the Dublin Teams were not going to get it all their own way. Ladies who Launch (5th) comprising Mary O'Loughlin, Diana Kissane and Lisa Tait were going to give the boys a run for their money. Darkness curtailed sailing at 16.15 when lighting up time regulations forced the fleet ashore to refresh and await the epic rugby battle in Lansdowne Road.
Perfect team racing conditions prevailed on Sunday when the teams took to the water in a 13 knot easterly. The podium places were determinedly fought for: Right Shift Sailing winning the tie break against Cork 1 for the silver medal position. In the knock out finals OxCamb SS Exodus beat the George 3-1 although the Knights had prevailed in the round robin. A capsize thwarted the Knight's efforts.
Silver Fleet winner were Reach Around and George Youths won the youth prize.
Many thanks to the sponsors Adrian Lee & Partners and Stitch in Time, the volunteers Jimmy Fitzpatrick, Dave Lovegrove and David Williams who ran the racing and the umpire team led by recently appointed International Umpires Cxema Pico and Chris Lindsay. CIT Cork, Trinity and the George kindly provided the craft sailed. Final thanks are due to the George and Eunice Kennedy -ITRA Secretary who organised the event, cajoled the teams and whose Herculian nay Granuailean efforts ensured the 70th success on her birthday.
Results
IDRA 70th Open Event 1, Oxon-Camb SS Exodus 2. George Knights 3. Right Shift Sailing
ITRA Irish National Championships 1st.George Knights 2nd.Right Shift Sailing 3rd.Cork1
Oxford-Cambridge SS Exodus : (Winners)
James Cross & Emma Machley;
Peter Gray & Hermione Stanley;
John Platts-Mills & Maddie Jackson.
George Knights: (Gold Medal and second overall)
John Sheehy & Jodie-Jane Tingle;
Nick Smyth & Rachel McManus;
Ger Owens & Michelle Rowley
Right Shift Sailing: (Silver Medal)
Noah McCarthy; Gleb Romanchilik & Trudy O'Hare; Douglas Elmes
Cork1 (Bronze Medal)
Mark Hassett & James McCann
Fionn Lyden & Amy Harrington
Darragh MacCormack & Lisa Smyth
Reach Around (Silver Fleet winers)
Conor Murphy & Cliodna Connolly
Philip Doran & Bella Moorehead
Cian Mullen & Ally Moorehead
Ladies Who Launch
Mary O'Loughlin & Sybil McCormack; Diana Kissane & Jenny Andreasson; Lisa Tait & Lynn Reilly.