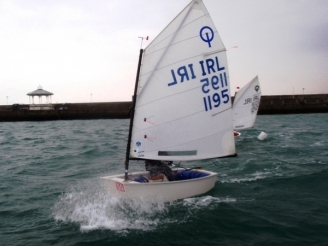 01 March 2019
A note from the Optimist Class Captain- Brendan Foley
Firstly, if you want your child to be able to compete in a race and have general competence in a boat then coaching is essential. A two-week sailing course in the Summer is just not enough, like all other sports the more time you spend on the water the better you become, while at the same time building friendships and having fun. We have 5 buddies who are all just back from Baltimore Oppie training week who started the race training last year in the club and they are all buzzed as well as filling 4 of the top 5 places at the regatta. (Sales pitch over!)
Our training goal; that the sailor can compete and enjoy sailing in a regional Optimist Championship and or the National Championships. (We have a Nationals and 2 regions event on the North side of Dublin this year so a great opportunity for your participation).
We will have two training groups;
Improver Oppie
Aimed at those starting in Oppies and who can sail a three-point course (beat, reach, run). They will be taught how to start and complete a race by friendly and attentive coaching staff. At the end of the coaching they will be able to race in Regatta Fleet at the regional championships and local regattas.
Regatta/Main Fleet Oppie
Aimed at those who are more advanced, have raced and will be sailing at IODAI (International Optimist Dinghy Association of Ireland) Events. They will be taught racing techniques by motivated and skilled coaches.
If you are not sure which group your child should be in, please contact me. We reserve the right to move people up and down in each group so that we can ensure each child gets the right level of support. We will have a very good coach to sailor ratio and the coaches will give you an update as to what group best suits your child as we go.
Dates
We will run 3 programmes.
March – 10th, 17th, 24th, 31st / €120
April – 7th, 21st, 28th (no sailing 14th as Club lift in) / €85
May – 5th, 12th, 19th, 26th / €120
Each program needs to be booked in full and if the weather is too bad to sail the coaches will run land based theory and rigging practice.
Booking link: Click here
Format
1300 Sailor arrives fed (Arrive at 1230 if you need rigging assistance)
1330 Fully rigged and launched
1530 Back off water and debrief
1600 Collect sailor and help them put their boat away
Equipment Required
+ Optimist in full working order, with 2 bailers, paddle and painter (tow rope)
+ Snacks and water in a dry bag
+ Warm sailing gear, sailing gloves, hat (no shorty wetsuits)
Parental Support
We are all volunteers providing this training so we need parental support specifically;
+ Have your child there on time and collected on time.
+ All parents will be asked to do shore parent for one training session (on land safety person)
+ Help your sailor rig if they are inexperienced
Finally, I cannot express how much my kids have gained from the friends, fun, knowledge and competition that the Royal St George Oppie training have given us. So we would love to see you and your little sailor there.
WHAT YOU NEED TO DO
Please respond to this note if you intend to take up on Programme A, B, C or all / combination – include your sailor name and age please.
Any questions – give me a buzz 087 6292324
Click here to book onto training.
Yours in sailing,
Brendan Foley- Optimist Class Captain
++++++++++++++++++++++++++++++