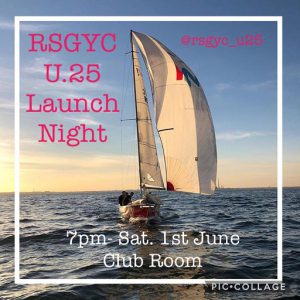 Here's a note from the RSGYC Junior Organiser outlining the great initiative of the Under 25 Sailing Squad which is drawing sailors back to the sport and introducing new sailors to the sport… oh yes- and a lot of fun!!
Hi All,
I am writing to spread the fantastic word about this great group of our older youth sailors who have been running with this initiative over the winter.
It all started as most things do, with a post on Facebook!!!  RCYC mentioned that they had started an U25 Academy, sailing 1720s, my U25 sailor asked Ronan why we didn't have the same, and he, in his wisdom challenged her to start it, and said he'd support her.  Off she went, set up a WhatsApp group, gathered a few friends,  and they were off.  It should be noted that unlike so many other squads the only entry criteria was, you need to be a RSGYC Cadet member, have left school, be U25 and willing to sail – that's it!  She lobbied Commodore Peter Bowring and Read Commodore Mark Hennessy, both of whom were very enthusiastic and a huge encouragement, a meeting was set up and their stall set out.  Ronan got them going in the club 1720s and they hit the waves running!!  
They have been training 3 times a week since mid February and are well set for the summer ahead.  They are competing in the DBSC summer series, thanks to the fantastic generosity of a club member Martin Byrne of A Stitch In Time Embroidery, who has paid their entry fee.  They are competing in the 1720 East Coast championship – Dun Laoghaire Cup this weekend, and have 2 strong teams entered (thank you again to Martin).  Their sights were always set on the ICRAs at the beginning of June, again they have 2 teams entered.  With the lobbying of Mark Hennessy and the support of the owner/sponsor members of the recently acquired J80s, they have permission to sail them, having proved they are committed and capable of the task.  Thank you also to Prof. of North Sails , Ben Cooke and Brendan Foley, who, amongst others, have given freely of their time to coach and mentor this group of sailors.
Many of you have asked why they need sponsorship?  They need to continue to be able to sail, and the 1720s need considerable maintenance and new sails.  They have done what they can and spent their own money on minor alterations and used their own considerable seamanship skills and very often, engineering skills to fix the wear and tear on the 1720s.  They also need new sails, they have very generously been given sails, on loan, from Ben Cooke, for this weekend, but would ideally like to buy new ones!
They have come together and sourced some spot prizes and raffle prizes, in order to convince you this is a worthy cause.  If any of you have kids who may have lost their way after TY, and fallen away from sailing due to the pressures of study and are reluctant to get back into it, because they fear everyone has moved on without them, then this gang is where they belong. The ability is mixed, the skill set varied but the welcome is ever present!   As long as your sailor wants to come down and pitch in, they are welcome.    They do have ideas for more fundraising plans, race nights and casino events, as they see this as a long term project.  However, time this time was so tight that a meet and greet and raffle, was the only option at the moment.
Please come down, have a drink and a bite to eat, let them introduce themselves and talk to you in person about their plans?  Equally, if you can't make it and feel you might have a service you could give, or a prize suitable to boost raffle tickets they'd love to hear from you.  They even have organised their own email address!!!!  Contact them on U25@rsgyc.ie.  Equally many of you will have sailors coming out of tombs in the near future as they finish the awfulness of Leaving Cert year, please get them to get in touch, register with the group, stick their name in the WhatsApp group and opt in when they are free?  Like some of the best things in life it really is that simple!  Equally, never let it be said again that big boats can't go sailing due to lack of crew, they only have 2 boats so there will always be surplus.  Email them, someone will be free and fancy spreading their wings, meeting new friends and learning new things.   The need to tap into your experience as much as you need crew!
Help them regain a valuable place in their club, feel like they belong, bring some vibrancy back to DBSC sailing and keep them sailing!!!
As many of you know I have very many communication groups, some overlap, some are missing vital addresses.  I'd really appreciate if you could spread the word to anyone you think can help our kids and help support them in their quest to keep sailing.
In advance, and as always, thank you for your amazing support!
Best,
Kate
Kate Fogarty
Junior Organiser
ROYAL ST. GEORGE YACHT CLUB
DUN LAOGHAIRE, CO. DUBLIN,