The Royal St George Yacht Club are hosting the President's Cup and Hansa Nationals 17th & 18TH August 2019.  The President's Cup and Hansa Nationals (inaugurated by Paralympian John Twomey) is an Irish interprovincial regatta. This year the provinces will comprise teams of 2 squibs, a Hansa and a 2.4m sailed by athletes from Sailability and WeSail.  Some may have buddies. This is the major national event for Sailability with two fleets.  We aim to make it a memorable weekend for both the 30 plus competitors and for the club. Come on down during the weekend to see some of the action! We would also be grateful to any member who would be prepared to volunteer to do one of the many tasks be it shoreside, crewing a rib or helping behind the scenes. Volunteer instructors and buddies to go out with some of the competitors are needed.  Contact ianafrench2@gmail.com or cjhenman@gmail.com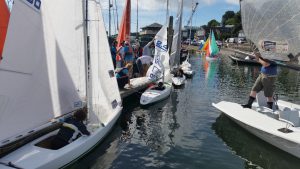 What we do:-
Volunteers
A huge thank you to the Royal St George Yacht Club boathouse staff, volunteers and instructors, for their dedication and input, without whom these programmes could not run.
WeSail is a Monday evening programme of sail training and social inclusion for intellectually challenged adults 6pm to 9.30pm from May to September in the Royal St George Yacht Club  It began in 2005 which makes 2019 the 14th season.  It was conceived by sailors who had been volunteers for the Special Olympics that were held in the Royal St George Yacht Club in 2003.  The Royal St George Yacht Club programme aims to develop the athletes' ability to rig, sail and put away small boats followed by socialising afterwards plus occasional mini cruises. The athletes help each other whilst knowledgeable volunteer sailors and instructors supply support.  This encourages a transition from childhood to adult responsibility.  Families are encouraged to join the après sail.
It relies heavily on very experienced sailor volunteers who may be required to coach, get onto a boat at sea from a rib, recognise and sort a problem, be a buddy should an urgent corrective action be necessary, laying marks or providing safety cover as a rib driver or rib crew and provide capsize training for more advanced athletes.  If this is you, please volunteer to cjhenman@gmail.ie.  Donations are very welcome for boat maintenance.
The athletes have a wide range of abilities.  It is everyone's responsibility to ensure the safety of others.  Some athletes need a dedicated volunteer whilst they are on the shore.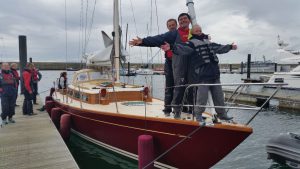 Sailability is a Sunday programme in the Royal St George Yacht Club for physically challenged children and adults.  It is operated by volunteers and instructors from the Royal St George Yacht Club, Royal Irish Yacht Club and the National Yacht Club.   It runs for 8 Sundays June to August.  The mornings are for children and afternoons for adults.
Last year the children's sailing list included a total of 34 potential participants however the maximum catered for was 26 sailors on the 24th June with the lowest turnout of 9 sailors on the 29th of July. The average turnout rate was 20 which is up on previous years. Those who came regularly really made great progress.
The adult course had 8-10 athletes. All participants got afloat each week in a boat of their choice, some in Hansas, some in the Club cruiser Tereblee and one in a 2.4m