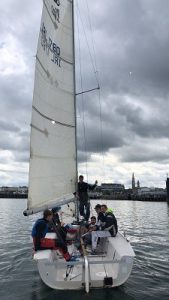 01/06/19
On behalf of the Under 25 squad, we would like to express our thanks to everyone who came down to the club to celebrate the launch of this fantastic new initiative. The night was a great success. The club room was packed with members, both young and old, drinking and chatting. We showed a video made by U25 member James O'Connor highlighting the goals of the programme. Adam Hyland made a speech thanking various people in the club for the support they have given us in our initial few months. The programme was partly set up for nights like this, where both the youth of the club and the club's oldest and most respected members can get together and bond over what we all have in common, sailing. We would like to especially thank those who could not make the event but still bought raffle tickets throughout the week. Without your support, this programme would not exist. We were delighted with the money that we raised through the raffle and through donations. Finally thank you to all the staff in the club for helping us to set up this event and making it possible.
07/06/19-09/06/19
The U25s competed in the ICRA Nationals on the weekend of 7th of June.
We had two J80s participating in the event with 5 sailors on each. There was a great mix of girls and guys on the boats – 2 girls and 3 boys on each! Boat 1- Dan Little (helm), Niamh Henry, Cillian Ballesty, Emily Cullen, Bobby King. Boat 2- Conor O'Beirne (helm), Chloe Eggers, Dan O'Beirne, Elizabeth Fogarty, Richard O'Rahilly. We all represented the club in our new team t-shirts (@a_stitch_in_time_embroiderers ). The wind was close to perfect all weekend despite strong winds forecasted for the Saturday of racing. We sailed all 7 races of the event with one discard in place.
Both U25 J80s we're particularly strong with their downwind technique. We had good control and sailed very fast planing at every opportunity downwind! Both boats worked well as a team and had trained together prior to the event.
Looking after the boats really helped as it kept order over the weekend!
There was fun before, during and after sailing every day! It was great being part of the new generation of cruising sailing. It was also such great experience racing in such a competitive fleet and we can't wait for more to come!
U25 boat 1 finished 2nd U25 overall and 14th overall in division 2.
U25 boat 2 finished 15th overall in division 2.
We have also entered a team into Sovereigns to compete in a 1720 next week. Everyone's really looking forward to it. Keep an eye on Instagram for updates! Team: Doug Elmes, Niamh Henry, Bobby King, Paddy Lee, Isobel O'Grady, Andrew Sykes.
Again we would like to thank everyone who has helped so far with this programme! @a_stitch_in_time_embroiderers
30/05/19
The U25s had two boats entered into the 1720 Easterns. The weekend started well for team 1. After tough, competitive racing on Saturday they were delighted to be lying 4th overall after the first day of racing. Helmed by Adam Hyland the team managed to get a 3rd and two 6ths. The racing was tight which was exciting for the team as they were finally able to see the hard work pay off. Team 2 was helmed by Dan O'Beirne. They were happy with their performance although they have a few minor issues to work on along more training to be up at the top end of the fleet. After a shifty day of racing they lay 11th overall.
On Sunday the teams were faced with strong winds of 20-30 knots. This was a challenge both teams looked forward to. As racing was about to begin unfortunately team 1 lost a batten in their main sail. They raced back to the dock to replace their main sail with the aim of joining the first race. As they rounded the windward playing catch up, they hoisted the kite like everyone else. Half way down the downwind the lower shroud snapped at the mast which caused the mast to snap. The team were then faced with the difficulty of big chop and a broken rig in the water. Luckily everyone was okay and they managed to retrieve the rig. Meanwhile all that drama was going on team 2 managed to get a 10th,7th and 9th in Sunday's racing. It was good experience for both teams to be out in that wind just a pity that team 1 were knocked out so quickly of the competition. Well done to both teams. Team 2 finished 9th overall out of a fleet of 17.
The U25s would like to thank Martin Byrne and Ben Cooke for lending sails to both teams for the event. Martin also kindly covered the entry fee for this event for both boats too. Without Ben and Martin the event would not have been possible for the U25s. Thank you @a_stitch_in_time_embroiderers
14/05/19
The U25s were out racing in DBSC on Tuesday making steady progress in preparation for 1720 Easterns.
Another first added to the books is a testament to the rising competence of the squad. Adam helm, Doug main, Cillian and Louis Trim and Bobby as bowman. Round the cans provided good training for straight line speed on long unwinds and downwinds as well as bigg picture strategy. A good start saw the team lead the race the whole way round
16/05/19
The U25s were racing in the DBSC on Thursday night in an effort to get as much racing in as possible before some of the group go away for summer and the summer events kick off. Light weather and strong tide made the conditions challenging, however the team managed to lead the way around the course. In particular, the team worked to perfect their hoists and drops on the downwind whilst also demonstrating great upwind boat speed and tactics.
24/04/19
This week we have been trying to train as much as possible. The next few weeks we will have a lot of people starting and finishing exams so we're just trying to train as much and as often as possible. With the Easterns a couple of weeks away we've been doing as much boat work as possible as well as sorting out which sails we will use for the event. We are also hoping to get out racing tomorrow for the DBSC so keep an eye out for us on the course. We're looking forward to having new faces down training and racing as many people have been tied down studying recently. Remember details will be released regarding our launch night very soon so keep your eyes pealed
25/04/19
We had an exciting day out training last Thursday as it was one of our first heavy wind experience together. We headed out with the intention of competing in the DBSC but unfortunately due to entry issues we weren't able to compete. We decided to stay out on the water and try and get some heavy weather training in. After some playing around with positions on the boat our session was well on its way. With the wind dropping steadily for the evening we focused mostly on gybing and kite trim. This helped out kite trimmers Louis and Cillian to perfect their gybes working alongside our helms Kate and Adam
30/04/19
Tuesdays DBSC was exciting as we had new faces down racing. Doug was helming, Cormac was on main trim, Peadar was on jib and kite trim alongside Elizabeth. Niamh was bow and Conor pit. Unfortunately after all our hard work getting a bullet we weren't up on the results as we were delayed getting entered but hopefully you'll see us up there from now on! We're really looking forward to the next few weeks! We've lots of boat work and planning to do which will keep us busy!
04/04/19
This Saturday we had a great day out on the water. Cillian, Niamh, Bobby, James, Ryan and Kate made up the team that took part in the two DBSC races. We are making great progress in our boat handling and teamwork. We plan on getting as much time on the water as possible this week in preparation for the upcoming 1720 Easterns at the end of May. The evening was capped off with a few drinks in the yacht club of course!
06/04/19
Yesterday we had 13 sailors and two boats out for a training session which Prof kindly agreed to coach. We started the session off with an upwind grind working on boat speed and manoeuvres followed by a long downwind back into the harbour.  In the Harbour we focused on some short windward leewards with quick 3 minute starts. The short course helped us focus on getting manoeuvres right. This week we will be out on the DBSC racecourse and also hopefully getting in a couple of extra training sessions. A big thank you to Prof for spending hours on the water with us. We really appreciate it and we all really enjoyed the session