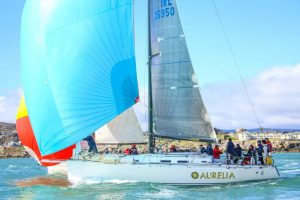 RSGYC's Chris & Patann Power Smith's J/122 Aurelia which finished at 03.23 this morning in the Dun Laoghaire to Dingle Race achieving 2nd place overall in IRC and 2nd in ISORA overall.
Well done to Chis and crew on sailing a great race in an uber competitive fleet.
As of writing (12:40 Friday) the two other RSGYC boats still racing David Bolger's 'Lady Rowena' and Ian Bowring's 'Springer' are approx. 35 and 30 miles respectively from the finish. Keep the pressure on folks, well done. There will be a warm welcome for one and all in Dingle.
Live tracking here: