Jaguar (201) leads Phantom (176) on day 1 of Irish Nationals, Kinsale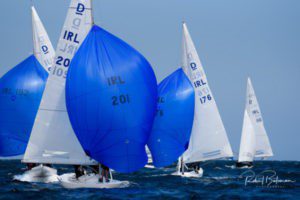 The 2019 edition of the Irish Championship was held over 4 days in the picturesque venue of next years Gold Cup, Kinsale. In a bid to promote the class, for the first time, the event was held in conjunction with the larger cruiser regatta (Sovereign's Cup) and was acknowledged as a great success.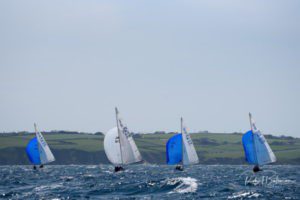 Over the course of the Championship 16 teams enjoyed a variety of conditions with a different leader at the end of each day. Two races were completed on day 1 sailed in a stiff easterly breeze with big sea's and it was "Jaguar" IRL 201 (Martin Byrne) who held the clubhouse lead in a three way tie with "Little Fella" IRL 211 (Cameron Good) & "Phantom" IRL 176 (Neil Hegarty/Peter Bowring/David Williams), all on 4 points!
On day 2 there was too much wind, so all racing was cancelled.
On day 3 only one race was completed in foggy conditions where the emphasis was on navigation, with IRL 180 "Serafina" helmed by Brian Goggin, crewed by Daniel & Sean Murphy taking the gun. Out of the three front runners, it was IRL 211 "Little Fella" that would hold the overall lead going into the final day.
On the final day IRL 176 "Phantom" Neil Hegarty, Peter Bowring & David Williams won both races!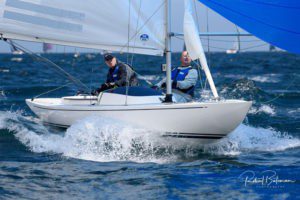 The final day saw perfect sailing conditions and IRL 176 "Phantom" worked their magic to win both races… This gave yet another Irish National Title to Neil Hegarty, David Williams & Peter Bowring from the Royal St George Yacht Club in Dun Laoghaire. IRL 201 "Jaguar" with Martin Byrne, Adam Winkleman & John Simms finished runner's up with the final podium place going to IRL 180 "Serafina" Brian Goggin, crewed by Sean & Daniel Murphy. Very well done to all and "Hats Off" to Kinsale Yacht Club for running a superb event.
Many thanks to Robert Bateman Photography for these action photo's from Kinsale