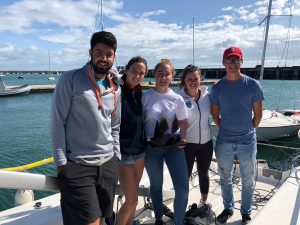 This weekend some members of the RSGYC u25 squad sailed a J80 in the Women at the Helm Regatta hosted by the National Yacht Club.
There was +25 knots on Saturday and two races were sailed. Our training during the week paid off as we managed to win both races allowing us to come away as Class 1 overall winners. It was tough going but we worked well as a team and had some fun with the spinniaker in the big wind! The team was comprised of Niamh Henry helming, Alanna Lyttle on main trim, Ellen Murray on pit, Roberta Bell King on bow and Gillian Ballesty on Kite trim.
Unfortunately Sundays racing was cancelled due to high winds. The RSGYC also won the overall team prize with Helen O'Beirne in the laser radial and Grace O'Beirne in the 420.
We were extremely happy with our performance and want to thank the National Yacht Club for hosting this fabulous regatta! We hope to continue to participate in this event!