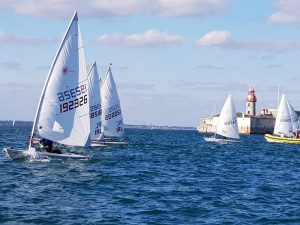 The CH Marine sponsored 'Final Fling' Dinghy Regatta takes place on 28th of September in Dun Laoghaire.
In its third consecutive year, the regatta will offer a very innovative change in its format. This year there will be two fleets, a Regatta Fleet and a Main Fleet.
The Regatta Fleet, facilitated by the Royal St George Yacht Club, is designed to accommodate less confident Laser (only) sailors. This fleet with race 5 short races inside the Harbour, with plenty of RIB support and on the water coaching. It will comprise of sailors that have perhaps done some of the Laser 'Kindergarten' workshops that have been running throughout the season in locations including Dun Laoghaire, Malahide & Wexford. Other participants in this group may include parents whose child has a Laser but their own sailing has lapsed and they're a little rusty. Regatta Fleet sailors are expected to be able to sail around a simple triangular course. There will be a briefing and debriefing session in the Royal St George to help the learning experience and a 15-minute workshop looking at rigging and sail control lines, all given by Sean Craig, local Laser sailor and Regatta Fleet Race Officer for the day.
The Main Fleet will be facilitated by the DBSC and will comprise of PY's (IDRA, Fireball, Vago etc.), Laser Standards, Laser Radials and Laser 4.7's who will complete 4 quick-fire races for the coveted 'Final Fling' prizes!
Prizegiving for both fleets will take place in the Royal St George from 6 pm.
This will be followed by the 'now infamous' end of season Laser fleet dinner and social in the George that evening.
 To enter both the Regatta & Main Fleet  Click HERE