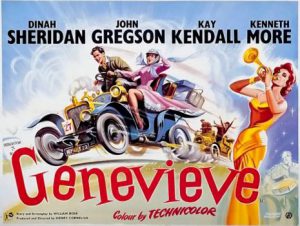 Join Dennis Woods & Michael Buckley on the 16th of October for a two-course dinner and the movie "Genevieve".
"This upbeat British comedy is about two friends who enter an antique car rally.
Alan McKim drives his beloved 1904 automobile, named Genevieve, while Ambrose Claverhouse takes his vintage Spyker car.
Alan and Ambrose bring their wives along for the wild ride from London to Brighton, and the trek soon turns fiercely competitive, each driver devising clever ways to sabotage the other in hopes of winning the race"
An enjoyable movie for the car fanatic in us all!
Two-Course Dinner 19:00pm /Movie 20:00pm/€21pp 
Booking is essential so please BOOK HERE