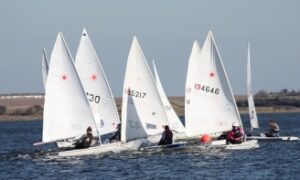 This summer the RSGYC is hosting a series of clinics aimed at preparing sailors for international and regional high-performance ILCA regattas. Clinics will be hosted by Senior Instructor Jack Fahy, who has an excellent record as a high-performance athlete in ILCA 6, having achieved accolades at the highest level of international competition.
This program is for sailors who aspire to compete in national and international class events. Sailors should be confident in their ability to race competitively and have the ability to handle the boat safely in up to 25 knots. Sailors in this program tend to be aged between 16 and 18 years but we will invite older high-performance sailors to join us on the water as "sparring partners". This program is for sailors who enjoy the competitiveness of racing as well as the craic that comes with group training.
Jack will also be introducing cycling into the clinics to build sailing fitness and stamina.
TIMING:
Arrival at club (in sailing gear): 12:45
Briefing: 13:20
Launch: 13:30
Return to slip & debrief: 16:30
Departure: 17:00
DATES
Clinic #1: 5 days from Wednesday 2nd to Sunday 6th June
COST
€40 per day or €150 for 5 days
For Booking Please Click HERE
FOCUS AREAS
Boat handling
Straight-line boat speed
Emphasis on upwind and downwind grinds and improving hiking fitness.
Racing tactics.
Starts; from small-scale drills to big fleet starts.
Event preparation, everything from boat prep and what spares to bring, to what to eat on the first day of a regatta.