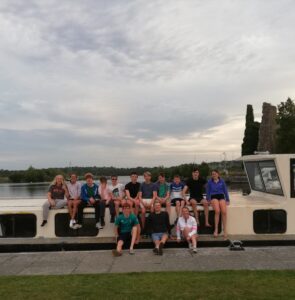 Pre Pre-Entry Course: (RSGYC members only)
The Royal St George is running an instructor pre pre-entry course for those who aspire to complete an instructor pre-entry. We will run a week-long course starting 26th July-30th July
9 am-4 pm for anyone planning on doing the pre-entry course.
Participants will be given lunch each day.
Objectives for the course:
Practice the skills needed to pass the instructor pre-entry
Some example but no inclusive are.
On water Prep
1.Practice all of the skills (practical assessment) in a double hander, as crew as and as helm.
These skills will include -Picking up a mooring
-Manoverboard
-Coming along side
-Rudderless
-Sailing a tight circular course
Written Prep
2.Study for the written / oral assessment. There are 3 ISA pre-entry exam papers. You will be given one of these three during the assessment.
Weather systems
3.Gain a better understanding of the weather and meteorological systems.
Weather patterns
Reading meteorological systems
Navigation
4. Identify the significance to sailors of common weather patterns illustrated on synoptic chart.
Identify local effects on the prevailing weather conditions Thermal, land features, advection and radiation fog.
Interpret the current forecast and make sound decisions on planned activities in view of expected weather and sea conditions.
Identify features, including hazards, from a chart.
Identify the relationship between the latitude scale and the distance in nautical miles on the chart Use transits to hold a course
Mock Pre entry
5. Have a mock pre entry on the Friday of the course to better understand your areas for improvement prior to the "Real Pre entry"
Hands on experience
6.Take the lead in deliverinig sessions to students supervised by experienced instructors.
This course will run alongside an adventure course that will allow interns to gain valuable experience teaching the group while under the watchful eye of the senior instructors running the course.
Pre-requisites
-Must be 16 years or older
-Access to a boat or double hander is required
-Aim to do a pre-entry course within the next 12 months
-Full participation in the course is required to gain the most experience
Adventure Course: (RSGYC members only)
Please note, places are limited to 10. If you do not succeed in getting a place please email sailing@rsgyc.ie and we will place you on a waiting list.
This summer the RSGYC is hosting a level 4 Adventure sailing course. Take sailing further with our Adventure courses. Designed to allow sailors to explore our coastline and take them beyond the confines of Dublin Bay. We are hoping to go above and beyond for adventure, with Yacht adventures and an overnight trip.
The course will be hosted by Senior Feva instructor Henry Higgins and Advanced instructor / Senior Instructor Cian Lynch.
Beginning on the 26th of July the week long course will cover rope work, passage planning, navigation and weather. These skills will ready the sailors for the overnight camping trip to Dalkey Island which will be held on the Thursday night weather dependant.
Objective:
To introduce sailors to the skills and knowledge they will need in order to undertake longer trips and to sail in stronger winds. As well as the skills and knowledge covered detailed in the syllabus the Adventure courses aim to develop and foster a sailor's sense of adventure and self reliance.
Previous knowledge / experience
You will be expected to have completed, or have experience equivalent to Improving Skills. Sailors must also have logged a minimum of 20 hours as helm subsequent to this and within the 6 months prior to the Adventure Skills course.
Pre-requisites:
• Sailors should be confident in their ability to handle the boat safely in up to 20-25 knots.
• Sailors must be between the ages of 13 and 16
• Full participation in the course is required to gain the most experience
• There will be no changing/shower facilities and sailors must be changed into sailing gear with sunscreen applied prior to arriving into the club.
• Sailors will enter via the side gate and must check-in each day with their instructor in order to facilitate contact tracing.
• Face coverings are mandatory inside.
• The sailors shall remain with their allocated group ('Pod') for the period of the session.
• Briefings will take place on the platform outside with the Instructor while maintaining the mandatory 2m social distancing in their own zone