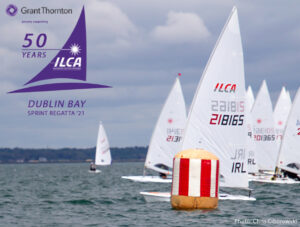 Dublin Bay Sprint Regatta – Celebrating 50 Years of Laser Sailing
We're delighted to announce the launch of a special sprint regatta event to mark the 50th anniversary of the Laser (ILCA) dinghy on Sunday, July 25th. This event will coincide with the first race in the Tokyo Olympics where Dublin Bay sailor Annalise Murphy is representing Ireland in the Laser Radial.
This event, proudly supported by Grant Thornton, is open to all Laser sailors across Dun Laoghaire both junior and adult, and in all rigs; 4.7, Radial, and Standard. Commencing at 2 pm, there will be a minimum of 5 races in quick succession for each fleet, with each race lasting between 20-30 minutes.
Prizes will be awarded for the top three positions in each fleet with males and females ranked separately in 4.7s and Radials.
Racing will take place in Dublin Bay, which means that this will be a great practice event for local 4.7 sailors who are taking part in the 4.7 World Championship which is hosted in Dun Laoghaire between August 7-14.
Non- Dun Laoghaire based sailors. Please note that the RSGYC cannot accommodate any visitors on our deck due to space constraints. If you wish to enter, you can launch and recover from the public slipway at the Coal Harbour in the West Pier . For sailors planning on launching here, please advise the Beachmaster by text message no later than Saturday 1700.
All activities will take place in accordance with government Covid-19 guidelines with a briefing and other communications taking place virtually. A socially distanced closing ceremony will take place in the forecourt of the Royal St. George Yacht Club from 7 pm.
Early bird entry closes at 12.00 Thursday July 22nd €20
The late entry fee for the event is €40 with entry limited to 100 boats. Click here to enter.
Click here to join the official event WhatsApp group