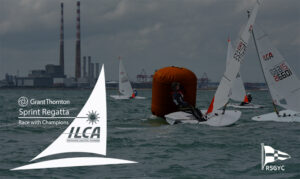 Grant Thornton ILCA Sprint Regatta – Race with Champions
*** This event is now fully subscribed and entry is closed ***
We're delighted to announce the launch of the Grant Thornton ILCA Sprint Regatta series kick-starting with the Race with Champions event taking place on Saturday, October 09, 2021.
The Dun Laoghaire ILCA/Laser fleet is delighted to welcome Grant Thornton Ireland as our lead sponsor for a four-part sprint regatta series taking place over the next 12 months. These events, hosted by the Royal St George Yacht Club, provide a unique sailing experience for novice and experienced Laser sailors.
These one-day regattas are open to Laser sailors both junior and adult and in all rigs; 4.7, Radial and Standard. There is particular emphasis from the race committee on ensuring a fast-paced and fun event for competitors of all ages and abilities. Novice sailors are most welcome as this provides a unique format to be involved in racing at the highest level across the Irish fleet.
Commencing at 2pm, there will be a minimum of 5 races in quick succession for each fleet, with each race lasting between 20-30 minutes. Prizes are awarded for the top three positions in each fleet with separate prize categories for male/female, under 35's and Masters.
The kick-off event, taking place on Saturday October 9th, is entitled "Race with Champions", with winners from the recent National Championship invited. In the Radial fleet National Champion, Jonathan O'Shaughnessy of RCYC will surely have a target on his back. Meanwhile the Masters National Champion, Sean Craig of RSGYC, will be eager to keep the "young guns" in check. However we're sure that local hero Jack Fahy of RSGYC will be on hand to defend his Sprint Regatta title from the ILCA 50th Anniversary event which took place in July this year.
Ladies will race in the same races as the Radial men where and we expect recent Irish National Champion Ellie Cunnane from Tralee Bay Sailing Club to be medals while the Masters National Champion Judy O'Beirne of RSGYC is also likely to be on form.
In the 4.7 fleet, we're delighted to welcome Rocco Wright and Sienna Wright, both of Howth who in their inaugural season in the Laser secured the boys and girls National titles respectively. Recent participants in the 4.7 world championships which took place in Dun Laoghaire in August will be keen to get more practice in prior to the Irish Youth National Championships at the end of October.
In the Standard rig, National Champion Nick Walsh of RCYC is the man to beat. Presumably the winner of the last Dublin Bay Sprint Regatta, RSGYC's Tom Higgins will not allow Cork to dominate in home waters. Newest entrant to the Standard fleet, young Kei Walker of RSGYC will be putting it up to his more experienced elders after taking the Youth trophy at the Irish National Championships.
Speaking at the announcement of the Grant Thornton Ireland sponsorship of the Laser Sprint Regatta series, Mick Shelley Audit Partner at Grant Thornton Ireland and himself a Laser sailor said that; "Sailing and in particular Laser sailing is a great sport for both male and female, young and old to be involved in. The modest cost of the Laser dinghy has meant that sailing has become accessible to many people and Grant Thornton Ireland are proud to be associated with this series."
All activities will take place in accordance with government Covid-19 guidelines with briefing and other communications taking place virtually. A socially-distanced closing ceremony will take place in the forecourt of the Royal St. George Yacht Club from 6pm, followed by dinner and an evening of entertainment for all at the club.
Click here to access the NOR and SIs
Entry fee for the event is €25 with entry limited to 75 boats.