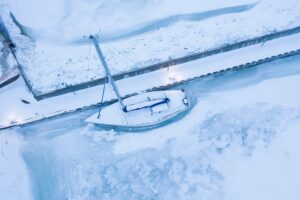 Its that time of the season when we unfortunately must start thinking about the end of the summer sailing season and the transition to winter sailing or hibernation for your boat. The annual Lift Out is on Saturday October 16th. Please note that all boats (except Optimists*) must be removed from the Club Forecourt no later than Sunday 10th, for the Boathouse team to start lifting boats and prepare the yard for Lift Out and Frostbite parking.
*Optimists in racks do not need to be removed if winter parking has been applied for.
Any boats remaining on the Forecourt after the 10th will be removed outside of the Club (€150 relocation fee) and forego future parking privileges.
Temporary Storage until after Lift Out for boats that will be sailing over the winter.
This year we again have secured temporary storage in the Old Ferry Terminal for those of you who do not wish to take your boats home and will be sailing over the winter. Please note that this facility is only available for boats that will be actively sailed during the winter as part of the DBSC Frostbite series and/ or scheduled Club winter training programs for the various classes.
Boats that have applied for this temporary parking can be taken over to the Ferry terminal (mast down) on the following dates and times:
Saturday 9thof October at 1000 and 1400 and after sailing on Saturday (approx. 1700)
Sunday 10th of October at 12:00 and 17:00
The cost for this temporary storage is €25 p/ boat. Space is limited and must be applied for using the application form at this link:
Frostbite Dinghy Parking
As is the case each year due to significant space constraints, the RSGYC will provide preference for dinghy parking for those sailors that will be actively sailing throughout the winter with Club coaching and or the DBSC Frostbite series.
If you are entered into the DBSC Frostbites or will be actively sailing as part of one of the above-mentioned groups a winter parking space will be allocated to you upon completion of the online application which is at this link:
Winter Dinghy Storage Only
Winter Dinghy Storage- if you will not be actively sailing but are seeking winter storage for your dinghy, we may be able to provide space. Please use the link to indicate your preference.
Thank you for your understanding and cooperation on the above.
Please contact Karin in the Sailing Office if you have any questions.