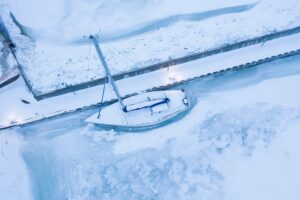 Its that time of the season when we unfortunately must start thinking about the end of the summer sailing season and the transition to winter sailing or hibernation for your boat. The annual Lift Out is on Saturday October 14th. Please note that all boats (except Optimists & Waszps*) must be removed from the Club Forecourt no later than Sunday 1st of October for the Boathouse team to start lifting boats and prepare the yard for Lift Out and Frostbite parking.
*Optimists and Waszps in racks do not need to be removed if winter parking has been applied for. Also those Melges 15's and ILCA's competing in the Final Fling Regatta/ M15's Nationals the following weekend are to be removed after racing on Saturday 7th.
Any boats* remaining on the Forecourt after this weekend will be removed outside of the Club (€150 relocation fee) and forego future parking privileges.
Temporary Storage until after Lift Out for boats that will be sailing over the winter.
Please note that unfortunately this year, due to the unavailability of adjacent overflow storage space that we cannot offer the temporary storage facility as in past years. You will need to plan to remove and store your boat offsite until after Lift In.
For those with absolutely no place to store their dinghy, we have been offered the use of an area opposite the Irish Lights building, but it is not ideal. It is the area opposite the Irish Lights building, a lane way adjacent to the Dart lines, secured with a locked gate. If you wish to leave your boat there, it can be used but it will be entirely at your own risk. To avail of this facility please book using this link.
A non-removal fee of €150 will be applied to those boats remaining on the deck without permission after October 1st. Thank you for your cooperation and understanding with this matter.
Frostbite Dinghy Parking
As is the case each year due to significant space constraints, the RSGYC will provide preference for dinghy parking for those sailors that will be actively sailing throughout the winter with Club coaching and or the DBSC Frostbite series.
If you are entered into the DBSC Frostbites or will be actively sailing as part of one of the above-mentioned groups a winter parking space will be allocated to you upon completion of the online application which will be available soon.
Winter Dinghy Storage Only
Winter Dinghy Storage- if you will not be actively sailing but are seeking winter storage for your dinghy, we may be able to provide space. Please contact the Sailing Office for more details.
Thank you for your understanding and cooperation on the above.
Please contact Karin in the Sailing Office if you have any questions.