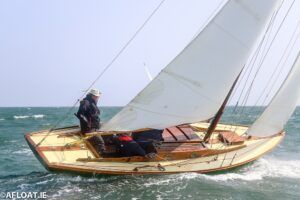 THE LAST GLEN RACE 21
Great craic on the Dublin Bay Roundabout Race.
After awaiting Pterodactyl crew to board the boat in full offshore oilies, to everybody's consternation they removed their boom in disdain, inciting a handicap start off the moorings led by Glencree. Glenariff, the crew aboard had taken a plenary indulgence to decline to prepare no doubt for the Caribbean 600. Glendun dropped the buoy on perfect port tack as Glencree came abeam & took off in hasty pursuit. Glenluce started less hastily on a starboardly wrong hand & tacked slowly in the lee of the pier. Decent odds given in fairness to her displayed incompetence. Glendun reaching a tad too tight immediately looked to get up on Glencree's hip out the harbour. She generously responded to windward to the delight of those astern. Glenluce 25 boat lengths behind sailed ominously low to the East Pier light unnoticed. Into the bay, Glencree romped along in the undulating sea: kicker hard on the reach. Glenluce similarly behind stealing boat lengths. Glendun trimming the new jib intently but alas with boom in the air as all eyes focused for'd. Glenluce by now through Glendun's open lee & 10 lengths astern of the erratic steerage of Glencree now nearing the mark, heard the radio cackle to life. Glendun alerted the diminutive to the fact that Stena would possibly be seeking room at the contested mark. After a rapid discussion, it was decided that a 720 was in order thereby completely confusing the professionals on the bridge of the ferry. Was this a Glendun ruse to gain the upper hand? The manœuvre was completed (rather over-elaborately by Glencree) in 15 knots of breeze. Glenluce, well-practiced at taking such penances and fearing the good Doctor would get the jump in the confusion rounded first in Stena's wake slipping on port towards Red Rock in the lee- bowed ebb. Glendun scarpered away from any further potential contact with the professionals. Glencree rounded slack-rigged & fell off into Glenluce's wake, finally tracking Glendun's escape to the south on starboard. The mile plus beat to middle mark consolidated the positions with Glencree splitting the difference by overhauling Glendun's yet again sad experience with the 'new' foresail. A pleasant reach then to the harbour belied the forecast & the threat of autumn. A few fine bevies were consumed on the club forecourt with tall tales, threats of a rollicking of UK Sails & reminiscences of the past season alas over.
Glenluce Ailbe Millerick, Paul Cassidy
Glencree Henry Roche, John Bligh & Derek Ryan
Glendun Brian Denham, David Houlton
DNS Pterodactyl David McCaffrey, Malcolm Fitzell
DNS Adrian Lee, Marc Little
DNTU Glencoe Myles et al
HDC Glenshesk Ml Reid et al
OTW Glenroan
NoM Glenmiller selection unknown