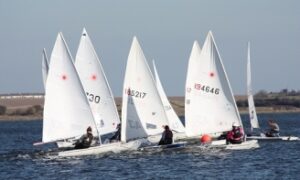 Sailing News
DBSC Racing
Lift In is scheduled for April 9th, a little earlier this year due to DBSC commencing racing earlier on Saturday 23rd April. The full schedule for DBSC racing can be found here:
Sailing Dates at the RSGYC 2022
This year is shaping up to be a busy one at the RSGYC with no less than thirteen regattas and championships confirmed. For a list of these dates and events please click here . If you would like to help and get involved in any of these dates, please reply to this mail and we will be in touch.
Junior Summer Course Dates announced
We are delighted to announce a return to full-day Junior Summer Sailing Courses for this summer. The dates of the courses are now live here and the online booking portal will be available in the coming weeks. Start planning your summer of sailing now.
Instructor Courses
We have two Irish Sailing Dinghy Instructor courses scheduled this Spring, and one Pre-entry course and Assessment scheduled.
The March Instructor Course is fully booked. The booking link for the April course will go live nearer the date.
A few places are available on the pre-entry course. Dates are February 22nd and 23rd, with the assessment taking place on Sunday, March 6th. Sailors must be available on all three days. Bookings can be made here.
VHF & First Aid Courses
In partnership with Irish Offshore Sailing, there will be several VHF and First Aid courses hosted in Dun Laoghaire over the coming months. RSGYC members will receive a discounted rate for any of their courses booked with Irish Offshore Sailing. For a full list of their scheduled courses and dates please click here:
Results Management- one of the most important areas of any sailing regatta, and now an area that truly can be completed remotely. We are looking for volunteers to assist with the many sailing events and regattas we host and are seeking to build our panel of results 'gurus'. This free online course will be running over 4 consecutive Tuesday evenings (40 minutes each session) on the 22nd of February 1st, 8th, and 15th of March 2022, Time: 1900-1940 each evening. For more details and to register please click here: (link then to web page post on club site)
Lockers
Lockers are now available for booking- if you had a locker last year and wish to retain the same locker a charge will be placed on your member account- if you do not wish to renew for this year
please reply to this mail and we will release your locker. If you have not had a locker last year, please use this link to complete an application.
Powerboat Courses
We have several Powerboat courses lined up over the coming months. Level 1/ Introductory 1-day courses and National Powerboat Level 2 which are two-day courses. Dates and booking links can be found here.
USail Courses
Our 2022 uSail (adult sailing) courses are now available to book. As well as our usual Start Sailing and Start Racing courses, this year we have added an Improvers course for any Start Sailing graduates that would like to continue from where they left off. And we have also added an afternoon Start Sailing course for anyone working flexible hours who would prefer to learn to sail in the afternoons or even when the kids are in school! Course dates and booking links can be found here.