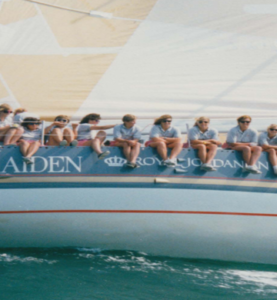 Ever wanted to ask the Maiden Crew a question???
Now is your chance…
In 1989 Angela Heath was part of the legendary first all-female crew to take on the challenge of sailing around the world in the Whitbread Around The World Race. In doing so, they won two of the race's six legs and at the end of the race, after 167 days and 33,000 nautical miles, Maiden finished second in class overall.
We will be showing the film 'Maiden' in the RSGYC and Angela will be around to answer any questions afterward.
When: Thursday 24th February 2022
Time: 7pm with movie starting at 8pm
Cost: €30 which includes a 2 course dinner
To book please click HERE
If you have any questions please contact Elle at reception on reception@rsgyc.ie or call us on 01 280 1811 extension 1.