For the February Mid-term we will be hosting some performance clinics for the Optimist, ILCA, 29er and Team Racing classes.
These clinics will be led by renowned International performance coach Michal Gryglewski of www.sail2win.org. Clinics will be geared towards sailors that are at competition/regional level of events. Clinics will be half-day sessions, a mix of shore-based and on-the-water coaching. For the team racing, sailors will need to have a decent understanding of the rules of sailing and boat handling and ideally be of 14+ years of age.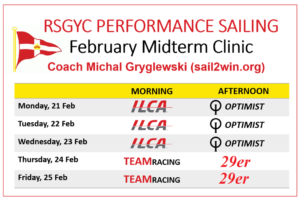 Questions? Please reply to this mail or contact Karin in the Sailing office on 01 2801181 ext.3.