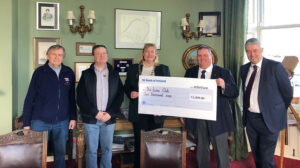 Charitable fund – (left to right) Robert Fowler, Eamonn Sampson Veronica Deignan (The Lions Club), Richard O'Connor, and Alan Kirwan
When renewing their annual membership subscription, all the Royal St George Yacht Club members are given the opportunity to make a voluntary contribution to charitable causes. For 50 years up to and including 2020, the money raised was spent on hosting pensioners living alone and from nursing homes in the parish and nearby to an Annual Lunch held during the Christmas period.
Due to Covid, this has not been possible in 2021 and 2022. However, the members of the George have continued to give generously, and the Club's charitable fund has grown in that time. Like many other sports clubs, the pandemic had a positive side effect in that their membership grew as people sought out ways to spend family time together in a healthy environment. Hence, the Royal St George's membership grew by over 200 new members since 2020.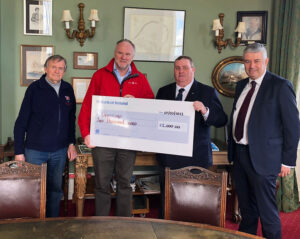 From left to right: Robert Fowler, Conor Hickey (Crosscare), Richard O'Connor and Alan Kirwan
Therefore, in consultation with the Trustees of the charitable fund Robert Fowler and Alan Kirwan, the Operational Board are delighted to donate €6,000 to charities active in Dun Laoghaire. Cheques of €2,000 each were presented on Saturday to St Vincent de Paul, Crosscare, and The Lions Club at the Royal St George.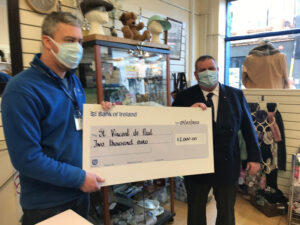 Commodore Richard O'Connor, along with Alan and Robert, were there along with representatives of each of the charities for the handover. Speaking at the event, he said, "These charities all do tremendous work in our local community. It is a real privilege to represent the Members of our Club giving back to those in need of help here in Dun Laoghaire."
The Royal St George members also donated €2,000 to the RNLI earlier this year.