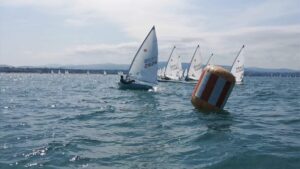 Grant Thornton ILCA Sprint Regatta – Spring Sprint
We're delighted to announce the first Grant Thornton ILCA Sprint Regatta of 2022. Our Spring Sprint on Saturday, April 02 is the perfect end to the local Frostbite season and will be followed by a fun social evening in the clubhouse.
The Dun Laoghaire ILCA/Laser fleet has announced that there will be five sprint regattas throughout 2022 once again proudly supported by Grant Thornton Ireland. These events, hosted by the Royal St George Yacht Club, provide a unique sailing experience for novice and experienced Laser sailors.
The one-day regatta is open to Laser sailors both junior and adult and in all rigs; 4.7, Radial, and Standard. There is particular emphasis from the race committee on ensuring a fast-paced and fun event for competitors of all ages and abilities. Novice sailors are most welcome as this provides a unique format to be involved in racing at the highest level across the local fleet.
Commencing at 2 pm, there will be a minimum of 5 races in quick succession for each fleet, with each race lasting between 20-30 minutes. Prizes are awarded for the top three positions in each fleet with separate prize categories for male/female, under 30s, and Masters.
The event is open to all ILCA Lasers based in Dún Laoghaire. Travelling boats are welcome to enter. Due to the ongoing space pressures across the local clubs, visiting boats shall launch from the public slip in the Coal Harbour.
Speaking at the announcement of the Spring Sprint, Mick Shelley Audit Partner at Grant Thornton Ireland and himself an ILCA sailor said that; "We're delighted to put our name to this format once again in 2022. The ILCA Laser is the largest fleet locally and is accessible to the widest range of sailors. We're happy to support such a fleet that makes the sport of sailing more accessible to a wider group of people."
Click here to access the NOR and SIs.
The entry fee for the event is €20 with entry limited to 80 boats. Click here to enter.