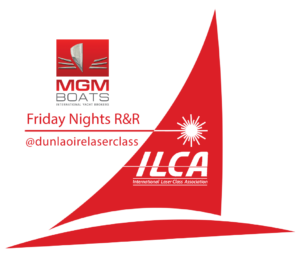 ILCA Laser's MGM Boats Friday Nights R&R
We're delighted to announce the introduction of a new ILCA Laser Friday night racing series for 2022. The eight-event series is intended to bridge the gap between local and national regattas to ensure that there is full-fleet racing available for Dun Laoghaire-based ILCA Lasers.
In addition to the amazing range of racing already available in Dublin Bay, the Dun Laoghaire ILCA/Laser fleet working with the Royal St. George Yacht Club is introducing a Friday evening "Race & Relax" series commencing on May 20th and running through the season. The specific dates when the Friday evening events run are aligned with gaps in the racing calendar.
Local club regattas combined with Irish Laser Association regional and national events provide an almost full schedule of weekly racing for sailors of all ages across ILCA 4, ILCA 6 and ILCA 7 fleets. The Friday evening series, kindly supported by MGM Boats ensures that all local sailors can compete weekly in challenging, fun and safe racing in Dublin Bay.
The intended format of the event will be two to three quick races outside the harbour with first gun at 18:30 – RACE. Social activities and sailing supper will be arranged for sailors young and old in the clubhouse after sailing – RELAX. Series prizes will be awarded at the end of the season in both male and female categories across each fleet.
Speaking at the announcement of the series, Ross O'Leary of MGM Boats, himself an ILCA 7 sailor said that; "We're delighted to be able to support this local initiative which is aimed to get us all out racing on a regular basis. Dun Laoghaire has one of the most active ILCA Laser fleets in the country with sailors ranging from beginner to Olympian. Being associated with such a progressive class is really positive for us here in MGM Boats."
The scheduled dates for the series in 2022 are:
Friday, May 20
Friday, June 03
Friday, July 15
Friday, July 29
Friday, August 26
Friday, September 02
Friday, September 09
Additional dates may be added.
Entry fee for the series is €80. Click here to enter.