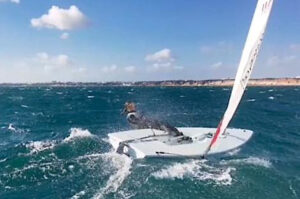 In a building breeze throughout the day, the three Irish sailors competing in the 52-boat ILCA 4/Laser World Championship warm-up event in Villamoura, Portugal, posted some good results.
Sienna Wright of Howth Yacht Club, sailing under the Faro burgee, is currently the leading female helm in eighth place overall. She is also the leading Irish boat on 15 points, counting an eighth and a seventh while discarding her worst result, a 12th place.
Close behind her is Daniel O'Connor of the Royal St George Yacht Club on 19 points and in 11th place overall. Daniel had a tough first race finishing 23rd but he recovered well with an eighth and an 11th in the second and third races, respectively.
Krzysztof Ciborowski also of the Royal St George Yacht Club, is the third Irish boat, and he found the conditions challenging throughout the day but recovered well, particularly towards the end of the afternoon and now lies in 38th place overall.
There are three races scheduled for tomorrow, with the race organisers trying to simulate what the courses will be for the main event starting later this week.
The current leader is Feodor Zoubovski from Cyprus. Results can be found here