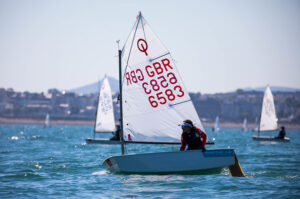 Well done to all our Optimist Sailors in the latest Irish Optimist Rankings from IODAI – https://iodai.com/provisional-ranking-2022/
Eight RSGYC sailors appear in the top seventeen of Senior Main fleet, namely, Caoilinn Geraghty- McDonnell (1st), Jules Start (3rd), Conor Cronin (4th), Abigail Murphy (5th) and Carolina Carra (6th), Zita Tempany (11th), Hannah Scott (12th), Marcus Shelley (17th).
Seven RSGYC sailors are in the top eleven of Junior Main fleet, namely, Emily Donagh (1st), Lily Donagh (3rd), Max O'Hare (6th), Julies Ryan (7th), Maeve Donagh (9th), Finn Foley (10th), Ella Rock (11th).
An incredible achievement and indication of the hard work these sailors and their coaches put in throughout the Winter and Spring.
The future of Oppie Sailing is alive and well in the George, well done all!