Parkstone's Lila Edwards Leads at Royal St. George Hosted Optimist Nationals at Dun Laoghaire Harbour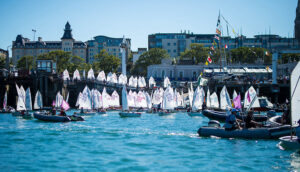 The scene at the Royal St. George Yacht Club as boats are launched for the Optimist National Championships at Dun Laoghaire Harbour
The Irish Optimist Nationals at the Royal St. George Yacht Club started in blistering sunshine today with light variable winds on Dublin Bay on Thursday.
Chief Race Officers, Ed Totterdell, ably supported by David Lovegrove and David Bolger managed to get two races in across both main and regatta fleets, despite the tricky, shifty easterly conditions in a strong ebb tide.
The Main Fleet contains two categories, junior and senior, both of which account for one hundred and twenty-five of the total fleet.
UK visitor Lila Edwards from Parkstone Yacht Club leads overall after counting a 2.0 and 1.0 in the opening races.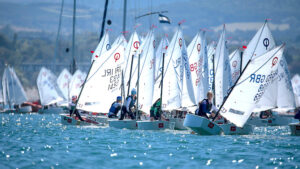 Second is the host club's Jules Start on 6.0 points with Conor Cronin of Malahide Yacht Club also on six points in third. Results below.
Many of these sailors are coming to the end of a compact season following three Irish regionals, a Europeans, Worlds as well as French and UK Nationals travelling parties.
Despite that, the hunger, competition and camaraderie in the fleet is evidently very strong, with lots of friends reacquainting after the long summer.
The thirty-seven-strong Regatta Racing Fleet, a new departure for IODAI, were raced in Scotsman's Bay, while the nineteen Coached Regatta Fleet sailors were raced in the confines of the harbour.
Feedback from the Regatta Racing Fleet sailors was very positive, mentioning that they loved being out in the Bay and racing on a slightly larger course than they otherwise would have been used to.
The sailors were treated to hot food, party games, music and an 'in it to win it' draw when they returned to shore, the latter being a major hit. Thanks to Vodafone and Viking Marine for the daily draw prices.
The forecast is for light variable conditions for the remainder of the four-day event, but if the stars align and the weather gods play ball, a sea breeze would be very welcomed to the otherwise idyllic conditions.
For results please click HERE