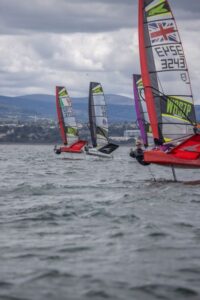 The Waszp nationals were hosted again this year in the Royal St. George Yacht club in Dun Laoghaire, Dublin on August 6-7th. There were 18 boats competing including two boats from overseas, one from Hawaii and one from Wales!
Fresh from the world championships with 9th place, Charlie Cullen RSGYC was back to fight for the National title against Henry Start RSGYC and Max Goodbody RIYC who were in Gold fleet at the world championships.
The racing got off to a good start with Race officer Barry O'Neill getting three good races in on Saturday morning August 6th before the breeze turned off. Barry commented that the standard of competitors was up significantly since last year with most boats completing all laps. Some notable new faces since last year included current RS400 national champion Robert Espey BYC and current RS200 national champion Frank O'Rourke RSGYC along with 2x 49er Olympian Matt McGovern BYC. The fleet was certainly a star-studded line up with almost every sailor having competed internationally for some years.
After day 1 Charlie Cullen had a commanding performance with 3 bullets with the internationals Zac Blomeley (Funsport Rhosneigr Wales) in 2nd and Gavin Ball (Hawaii Kai Boat Club) in 3rd. The fight for first girl and first master was as tight as can be with both having two competitors on equal points.
The sailors then had dinner at Royal St. George Yacht club and got up early for 10 am first gun to get 4 races in before the breeze vanished again. When all the races were done Charlie Cullen only dropped one race and finished in first on 6 points winning the Irish National Championship and the Nations Trophy for Ireland. Georgia Goodbody managed to separate from Elysia O'Leary to win 1st girl and Frank O'Rourke managed to get some points between him and the defending Masters champion Tom Hogan to secure the victory. Second place went to Zac Blomeley and 3rd to Gavin Ball, definitely the farthest to travel to the Irish Nationals!
Max Goodbody finished as the 1st Junior and Robert Espey won the Apprentice category.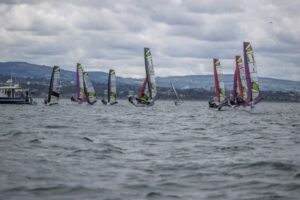 Henry Start, Chairperson to Irish Waszp Association and competing sailor commented "Everyone was happy to get good races over the weekend in fabulous conditions and I'd love to see even more boats next year!"
Gavin Ball from Hawaii Kai Boat Club, USA said " Tight racing in exciting racing conditions made for fun and competitive racing".
The fleet has continued to grow with its diverse age and weight groups with sailors from 16 to 60 years old sailing with competitors ranging from 50 kg to 90 kg.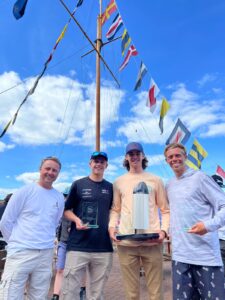 Pictures of winners Charlie Cullen National Champion RSGYC, Second place Zac Blomeley, Funsport Rhosneigr, Wales, third place Gavin Ball, Hawaii Kai Boat Club, USA, with Duncan Hepplewhite, Sailing fast.