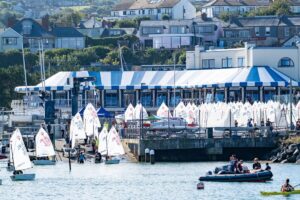 What a super performance from the George sailors at the Optimist Ulster Championships in Howth this past weekend where over 140 sailors competed across 4 fleets. An incredible 35 (25%) of these 140 competitors were George sailors.
In Senior Main Gold Fleet, after 6 races, the George had a 1/2/3, with Jules Start, Caoilinn Geraghty-McDonnell & Conor Cronin, followed by Abigail Murphy and Marcus Shelley in 6th and 7th respectively. In Senior Main Silver Fleet, we had another George sailor, Jamie White in 2nd place.
In Junior Main Gold Fleet, after 6 races, the George had another 1/2/3, with sisters Lily Donagh and Maeve Donagh 1st and 2nd place respectively and Finn Foley in 3rd. In Junior Main Silver, we had yet another Donagh sister, Emily, in 1st place and Ella Rock in 6th. In Junior Bronze Fleet, Holly Cantwell was in 3rd place, Tom Darcy in 7th and James Crawford in 9th.
In Regatta Racing Fleet, after 8 races, we had Oliver Ryan in 3rd, Amy Shelley in 6th and Louie Murphy in 7th place overall.
Next up is National Training Week from 2-5 November in Lough Derg. In the meantime, our Winter Training programmes starts next weekend – contact Sarah Foley/Barry Murdock for information on the Optimist Development programme and Gavan Murphy/Brendan Foley on the High-Performance programme.