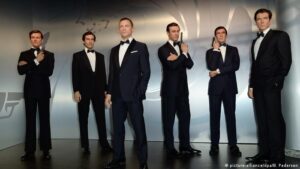 It's Movie Night Again!!
Following the huge success of our inaugural Bond Movie, Goldfinger, our next cinema evening will be on Wednesday the 23rd of November at 19.00
To get you in the mood the bar will be serving Vodka Martinis, shaken, not stirred, for the exceptionally good value of €10
Any of our guests who arrive in a tuxedo or elegant evening dress to add to the atmosphere will get a 50% discount on your first special cocktail!
A hot dish will be available for a very reasonable €15.
It all adds up to a great evening out, so blow away the winter blues and join us for an evening's entertainment in the Club.
The hot dish will be served at 19:00 followed at 20.00 with another one of the most famous Bond movies, Casino Royale "