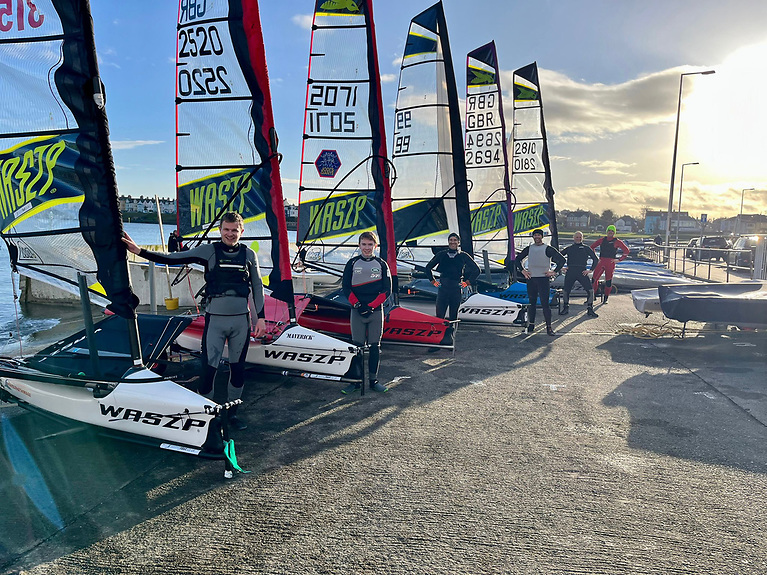 It's amazing what can be achieved if you put your mind to it. In September 2021 Rob Espey of Ballyholme Yacht Club bought a Waszp and at that time, his was the only one at the Club. Having a vision of starting a class, he bought another in May last year so he could use one as a demo.
The Waszp is a one-design foiling dinghy. Every boat is produced to the same tight specification, meaning it's down to the sailor to squeeze the speed out of the boat.
Rob is a long-time sailor, having raced Lasers, 49ers and RS400s. Now he is enjoying the success resulting from his efforts to get a Waszp class going in Northern Ireland. And to date, his determined efforts have paid off in a flurry of purchases with nine on the books, eight at Ballyholme and one at Strangford Lough Yacht Club at Whiterock.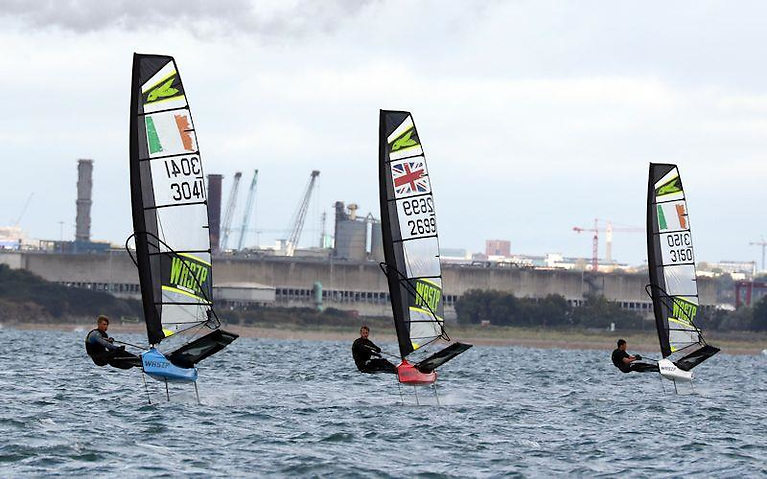 Rob said, " I realised that if someone took on the hassle of ordering and buying, that it would make the purchase more attractive, so that's what I did. I bought them and sold them on to interested sailors". Some have been sourced from as far away as Australia, New Zealand and Austria.
The sailors who have committed so far are a varied group. Jeremy Tomalin crewed with Michael Ferguson in the 2013 RS 400 Nationals at Royal North of Ireland YC on Belfast Lough and finished in the top three Irish boats. And Mikey Ferguson is another. He has moved from being an offshore crew in such prestigious events such as the 2019 Transat Jacques Vabre with Finnish airline pilot Ari Hussela and the Middle Sea Race in the MOD Mana to something a great deal smaller. Gareth Martel is the owner of Pippa VI, a First 40.7 in which he won the 60th Anniversary offshore Ailsa Craig race out of Bangor.
Matt McGovern is a 49er sailor with two Olympics in his CV – 2012 and 2016. Daniel Corbett is a top ILCA 6 helmsman who was a member of the RYANI team at last year's Celtic Cup in Largs. Luke McIlwaine from Newcastle YC competed at the international level as RYANI Topper squad member, an ILCA6 Radial and then a 29er sailor. Currently, he races on the RS400 circuit and on cruiser racers.
Mike Kimber is one of the top sailors in Ballyholme's Laser fleet. From Strangford Lough Yacht Club, Stuart Cranston will have a very different experience in the Waszp from that campaigning his Ker 32 Hijacker.
Past racing results for Bob, Matt and Jeremy include a 6th, 9th, and 15th in last year's Irish Nationals at Royal St. George YC.
On the menu for this season the N I contingent plans to take part in the Irish Nationals at Royal St George on 19th and 20th of August; an attempt at the Guinness Book of Records for the fastest North Channel crossing from Bangor to Portpatrick, in aid of Childrens' Cancer charities. Last year Rob did it in 1 hour and 30m but it hadn't been verified. It will be some sight to see all nine Waszp sailors support this attempt. Interestingly the previous record of 1hr 52 min was set by the late Johnny Mullan, crewed by Ian Wilson in a Hurricane 5.9 in 1996 but as they hadn't applied to Guinness, it wasn't recognised. Rob will apply this year. He also plans some demo sails.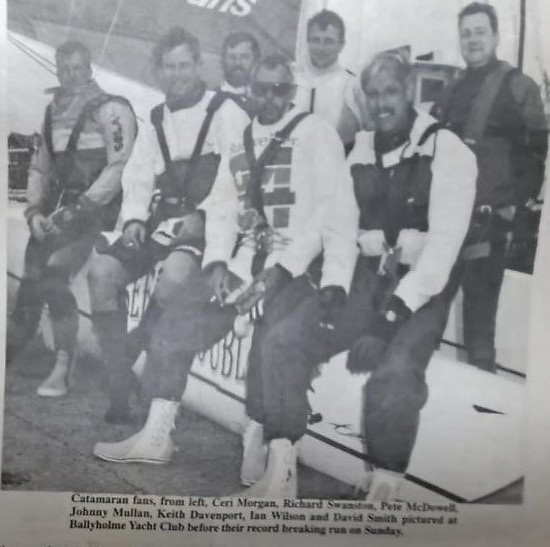 It will be interesting to follow the next stage of the Youth Foiling Programme initiative at Royal St George led by Club member and foiling champion Charlie Cullen will be revealed. It is aimed at young Irish sailors interested in possibly becoming Ireland's first-ever Youth America's Cup sailor in Barcelona 2024. It aims to provide a possible pathway for U25 athletes in Ireland into professional sailing with the goal of producing Ireland's first-ever Youth America's Cup sailor. Entries closed on January 16th.
Rob is delighted with the response and the growth of the class in Northern Ireland: "Watching the America's Cup, I knew I wanted to get involved in foiling. I had looked at buying a Moth, but they are very expensive to buy and maintain, and also the chances of getting a fleet in Northern Ireland would be slim. The Waszp, therefore, was perfect They cost a lot less, and all the parts are readily available from the UK dealer in Scotland. Also, they appealed to me being one design as you can be certain of getting good racing. With eight now in Ballyholme and a ninth in Strangford, it's going to be a fun time!"
See the full Afloat article by Betty Armstrong here: AFLOAT ARTICLE