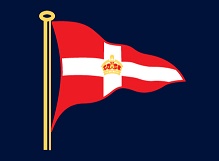 The Royal St George has worked hard to create a coaching program to support our youth sailors and it's great to see it bear fruit with great results at the recent IS Youth Nationals. Most of the coaches are ex Oppie and ILCA sailors from the club. This is a key element of our program where we try to get each generation to support the next one. Our values of sporting excellence, family, friendship and fun are instilled in the ethos of our teams.
Our young sailors had some tremendous results over the weekend over in Howth, so many in fact it's hard to know where to start. In the Optimist fleet in which 30% of the competitors were sailing under the George burgee, Caoilinn Geraghty McDonnell finished in second place. She was joined in the top 5 by Jules Start and they both now have earned the right to represent Ireland at the World Championships in Spain.

They had plenty of company in the top ten with clubmates Conor Cronin, Abigail Murphy, Maeve Donagh and Max O'Hare making up the rest of the top 10. They were closely followed in 12th place by Carolina Carra and those 5 can now represent Ireland at the Europeans in France.

Qualifying for the Irish Development Team going to the French International Optimist Regatta this year were Emily Donagh, Marcus Shelly and Finn Foley. A big well done to all competitors, coaches and support staff (that's code for parents) on a tremendous regatta. Special mention for Juliet Ryan who got scarlet fever and could not race on the last day. Get well soon, and finishing in the top 20! Wow just wow!

In the 29er class Lucia Cullen helmed her way into a very credible 3rd place in a uber competitive fleet. In the topper fleet of 40 boats, Kate Molloy was our sole representative, she performed admirably finishing in 21st place which in other circumstances would mean she would win the silver fleet. Well done ladies!

In the ILCA 4 we had again a huge entry with the George again making up a third of the fleet with 11 of 33 sailors. Krzysztof Ciborowski led no fewer than 5 George sailors in the top ten. He came 2nd, Seth Walker 4th, Patrick Foley 5th, Thea Daly 6th, and Lucy Ives 10th. Well done to all.

In the massively competitive ILCA 6 fleet we had sailors again vying for silverware and eventually 3 George sailors ended up in the top 10. Sam Ledoux sailed an incredibly consistent regatta finishing in 4th, with Fiachra McDonnell in 6th, and Daniel O'Connor in 10th place overall. Also racing under the George Burgee in the ILCA 6 were Bran Carroll and Peter Williams. Well done to all, that was as competitive a fleet, and as tricky conditions you will ever race in at an Irish event.