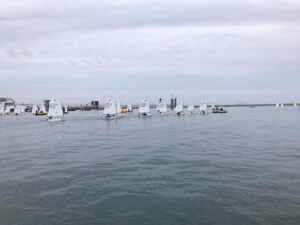 The RSGYC was very well represented this weekend at the Optimist Lenister Championships hosted by the National Yacht Club. 133 sailors competed, 44 in the main fleet senior, 35 in the main fleet junior, 39 in regatta racing and 15 in the regatta coached. For many sailors, this was their first Optimist event, and the gentle conditions meant singing, paddling and chatting to friends was as much a part of the weekend as racing.
The younger fleets of Racing Regatta and Coached Regatta were based in the harbour and had some success with a few races completed on Saturday and a full complement on Sunday. The short sail to the race area and lack of current in the harbour allowed for some great racing.
With nearly 40% of the fleet proudly sailing under the RSGYC burgee our sailors had a lot of friends afloat and were very well represented in the results. Congratulations to all of our sailors who competed, in particular to Tom Fitzgerald who was 1st in the Regatta fleet and to James Keating who also took home the silverware in 3rd place. Super results for these sailors in one of their first championships. Their results can be viewed here:
In the Regatta Racing Fleet RSGYC sailors were a large portion of the fleet, congratulations to all who raced. Well done to sailors Jackson Clark and Rebecca Murdock, Jess Walsh who were in the top ten and were closely followed by mostly RSGYC sailors in the rest of the fleet of 38 sailors. Full results can be viewed here.
RSGYC sailors Maeve and Emily Donagh were 1st and 2nd respectively in the Main Junior Fleet with Angus Huang also in the top ten. In the Senior Fleet Main RSGYC proudly had six of sailors in the top ten, with Caoilinn Geraghty- McDonnell 2nd place, Conor Cronin in 4th and Carolina Carra in 5th. Overall a tremendous representation of our Optimist Fleet which is a credit to the Class organisers, coaches, sailors and their parents who commit so much to the enjoyment and provision of sailing for their children.