Save The Date – Atlantic Youth Trust Conference & Dinner
March 12, 2016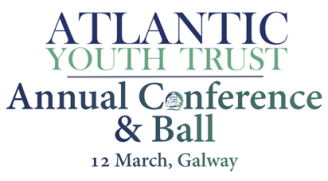 Dinner Chairman, Captain Brian Sheridan, Vice Chair Helen Boles and Committee John Killeen, Declan Dooley, Peter Connolly, Brian Lynch, Enda O'Coineen, John Murphy, Dan Murphy and Neil O'Hagan invite you to join us on 12 March in the stunning Galway Bay Hotel.
Designed as workshops with input from participants, an exciting program is planned with 3 lively Sessions commencing at 1130 hrs. We will break for lunch and the 6 Nations Rugby to recommence 1530 hrs to 1730 hrs rolling into the Gala Ball.
Session 1: 1130 – Educating & Youth Development on the Ocean
• Something obvious to those who have experienced it first hand, yet hard to comprehend for those that haven't. We will hear from some of the island's most experienced shore based and ocean based educators.
• The objective is to challenge our plans and to refine them with an eye to ensuring we offer the best programmes to meet our core objectives.
Session 2: 1530 – Vessel Design & Construction
• How to design the best yacht/ship to be fit for purpose. While the focus will be on our new Tall Ship we will hear from experts in traditional and modern design.
• The aim of the session will be to explore our tall ship concept in more depth, invite input from experts and ensure we are following the best path.
• The Galway Hooker One Design Concept will also be explored.
Session 3: 16:30 – SeaFest 2016 & Hosting and Attracting Major Maritime Events
• A Preview SeaFest 2016, July 2016 and idea development.
• Speakers will include some of the most experienced event managers of high-profile maritime events on the island.
The days events are aimed to attract a wide range of stakeholders and will conclude with the Gala Dinner. To book your FREE place at the conference (lunch not provided) or to book a Table or individual place at the dinner visit http://www.atlanticyouthtrust.org. Special Hotel Rates are also available.
Finally for those that missed our AGM read Afloat's full report here and view our Annual Report here.