SB20 – Eastern Championships – RSGYC
11/08/18.12/08/18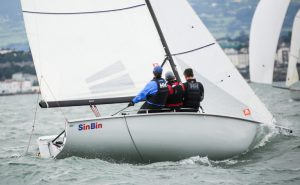 The Royal St. George Yacht Club is looking forward to hosting the SB20 fleet for their Eastern Championships 2018.
We are expecting a strong entry for what will be a warm up to the 2018 European Championships being hosted on Dublin Bay by our neighbours the RIYC.
With an estimated 25+ entries and more than 70 competitors, we expect great activity around the club during this regional event.
Competitors can expect that usual fun and friendly atmosphere at the RSGYC. A BBQ will be on offer on the club forecourt after sailing on Sat 11th Aug, and no doubt competitors will enjoy trading race stories over a few social drinks.
Please enter online using the link below.
The Notice of Race can be downloaded here:
The secure Online Entry can be accessed here:
SI's can be downloaded here:
SB20 Eastern Championship 2018 Current Entry List
| Boat Name | Sail Number | Club | Owner Name | Last |
| --- | --- | --- | --- | --- |
| Sin Bin | 3544 | RStGYC | Michael | O'Connor |
| Broomsticks | 3537 | RstGYC, GSC | Marty | O'Leary |
| Provident C.R.M. | 3040 | Lough Ree Yacht Club | John | Malone |
| Lia | 3449 | GSC/RSGYC | Sarah | Byrne |
| Bad/Kilcullen | IRL 3741 | RIYC | Jerry | Dowling |
| Lo Fly | 3426 | NYC | Simon | Doran |
| XPoint | 3635 | Poolbeg Yacht & Boat Club | Roger Smith | Kate Tokarska |
| sea biscuit | 3323 | RSGYC | niall | o'riordan |
| VIS Sailing team | RUS3707 | Saint-Petersburg | Timur | Sabirzianov |
| venuseworld.com | IRL 3739 | RIYC | Ger | Dempsey |
| CARPE DIEM | 3761 | RStGYC / RIYC | Colin/Richard | Galavan/Hayes |
| Alert Packaging | 3717 | NYC | Justin | Burke |
| Binn Eadair Racing | 3012 | HYC | Diana | Kissane |
| Know How Do | IRL 3490 | Howth Yacht Club | Shane | Murphy |
| Black | 3737 | National Yacht Club | James | Gorman |
| Animal Origami | IRL 3433 | Royal St. George YC | Chris | Chapman |
| SBodikins | 3322 | RSGYC | Rob | Cahill |
| Sacre Bleu | 3164 | George YC | Owen | Laverty |
| Team Ridgeway | 3500 | Royal North of Ireland YC | Stephen | Kane |
| Sunday Brunch | 3297 | Royal St George YC | Pat | O'Brien |
| Woohoo | 3240 | GSC | Robert | Galligan |
| 5 fingers | 544 | Rush | Paddy | Kelly |
| Rubadubdub | IRL 3343 | NYC | Nick | Doherty |
| Smoke on the Water | 3320 | RSGYC | Bob | Hobby |
Related Events