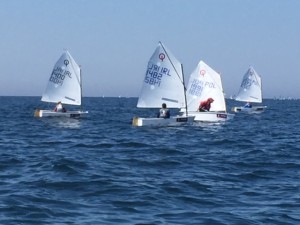 Photo shows Hannah Leonard, IRL 1400 and Dylan O'Grady IRL 1485 on Day 2
Day 2 of the Energa Sailing Cup, Dziwnow, Poland
The perfect conditions for day 1 continued into day 2 of the Energa Sailing Cup in Dziwnow, Poland. The wind dropped slightly to 8-10 knots from the North east as the sailors had a busy day of 4 races.
The Irish team pushed hard and sometimes a bit too hard resulting in some alphabet scoring from 2 black flags for the team. Trevor Bolger from the Royal Saint George Yacht Club continued his form, scoring a ninth in the final race to leave him in 40th place and qualifying for the Gold fleet for the last day. Sam Crawford from Howth Yacht Club benefited from the discard kicking in to lose his u flag from the previous day.
If Sam doesn't qualify for the Gold Fleet, he will be at the top end of the Silver fleet. Ben McDonald, also from Howth Yacht Club will also be at the top end of the Silver fleet once the cut is made.
Hannah Leonard from the Royal Irish Yacht Club had a consistently improving day until the last race and has moved up the ranking considerably overnight. Dylan O'Grady from Howth Yacht club was unfortunate to suffer a black flag in race 2 today and otherwise had improving scores throughout the day.
The level and intensity of competition here in Poland has impressed the team and each sailor acknowledges that this international event has helped to develop their skills immensely. As they head into the final day with two races and slightly more wind forecast, the mood is very optimistic in the Irish camp.
Report by David Bolger