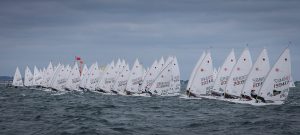 RSGYC will be hosting a series of 4 Open Clinics over the summer for youth Laser sailors.  The clinics are aimed at sailors who are experienced at racing and competing in the regional events and nationals in 2019.  The key goal will be preparation for the Laser Nationals in August.  The clinics will focus on boat speed, boat handling, starts, racing tactics and sportsmanship.
The program will be run out of the RSGYC and is open to both Radial and 4.7's.
The coaches will be some of Ireland's top Youth Laser sailors and coaches who will provide 5- days of hands on, intensive and fun coaching.

Clinic Dates
June Clinic:                 24th  – 28th  June
Mid- July Clinic:       16th  – 19th July
Early August Clinic:  5th  – 9th August
Mid- August Clinic:  12th – 16th August
Clinic Fees:
RSGYC Club Members €199 p/ clinic
RSGYC Guests €270 p/ clinic
Notes:
All Clinics are 5- days in duration
Clinics are open to RSGYC Club members and guests
Cost per clinic is €199 which includes daily lunch
Places are limited to 12 per/ clinic
Credits are note issued for missed days
Sailors must have their own boats which must be removed from RSGYC Forecourt on the final day of the clinic (if guests of RSGYC).
Course places are limited and allocated on first come first served basis. Early booking is advised.
Applications may be made for more than one clinic.
TIMING:         
11:30   Arrival at club to rig, change and early lunch
12:30   Briefing
12:45   Launch
16:00   Return to shore
16:30   Debrief
17:00   Departure
Click here to sign up online for any of the Laser Summer Coaching clinics.