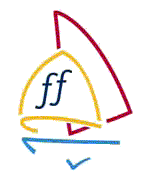 The Flying 15 South Coast Championship takes place on Saturday 10th and Sunday 11th of August.
A very warm welcome to the Flying 15 fleet from the Royal St. George Yacht Club. We look forward to a cracking weekend of sailing in Dublin bay which will be a great opportunity to test your skills and tactics before the National and World championships in September. If you are visiting don't forget to corner a local to find out the local tidal secrets over a beer. Click here for tidal streams information in Dublin Bay.
Registration is available from 6pm-8pm Friday and Saturday from 8am-9am in the Jury Room of the RSGYC (downstairs off the Atrium).
At registration you can pick up your vouchers for a BBQ on the forecourt on Saturday after sailing.
The race officer briefing will take place in the club at 9:45am Saturday morning so you can launch after this in plenty of time for the start.
Wishing you all Fair (but not too strong winds!)
Conor O'Leary
Flying 15 Class Captain Dun Laoghaire
Click here for the Notice of Race.
Click here for the Amendments to the Notice of Race.
Click here for the Sailing Instructions.
List of current Entrants below
Flying Fifteens South Coast Championship 2019 Entry List
| Entry Id | Boat Name | Sail Number | Club | Helm | Crew |
| --- | --- | --- | --- | --- | --- |
| 1 | A Mere Triffle | 3749 | NYC | Peter Sherry | Michael Cotter |
| 2 | As Good As it Gets | 3688 | DMYC | Ben Mulligan | Cormac Bradley |
| 3 | Ash | 3913 | nyc | joe coughlan | Ciara Mulvey |
| 4 | Betty | 3920 | National yacht club | David Gorman | Chris Doorly |
| 5 | DuFF | IRL 3912 | NYC/RSGYC | Gavin Doyle | Dave Sweeney |
| 6 | eleni | 3737 | nyc | Ross Doyle Doyle | MJ Mulliggan |
| 7 | Fandango | 3697 | Royal St George | Louise McKenna | Hermine O'Keefe |
| 8 | ffantastic mr ffox | irl 3938 | NYC | Niall Meagher | Nicki Matthews |
| 9 | ffastantic | 4037 | Killyleagh YC | Andrew McCleery | Colin Dougan |
| 10 | ffinisterre | 3753 | RSGYC/DMYC | Alastair Court | Conor O'Leary |
| 11 | Fflagella | IRL4057 | National Yacht Club | Tom Murphy | Carel La Roux |
| 12 | Fflogger | 3773 | National Yacht Club | Jonathan O'Rourke | Joe Hickey |
| 13 | Flyer | IRL 4008 | nyc | Niall Coleman | Michael Quinn |
| 14 | For Fox Sake | IRL 3756 | SLYC | Andrew Baker | Peter Chamberlain |
| 15 | GLASS HALF FULL | 3845 | DMYC | Frank Miller | Grattan Donnelly |
| 16 | ignis caput | 4068 | national yacht club | david mulvin | Ronan Beirne |
| 17 | Melliffluence | 3706 | NYC | Geraldine O'Neill | Mick Hanney |
| 18 | Nimble | 4043 | RStGYC | Brian O'Hare | Tonia McAllister |
| 19 | No Name | 4028 | DMYC | Neil Colin | Margaret Casey |
| 20 | No Name | IRL 4045 | National Yacht Club | Gerry Ryan | Peter Dolan |
| 21 | Perfect Ten | IRL 3995 | NYC | Alan Balfe | John Whelan |
| 22 | Rodrriguez | IRL 3955 | NYC | Ken Dumpleton | John McAree |
| 23 | Simply gold | 4074 | County Antrim yacht club | Bryan Willis | John Mcpeake |
| 24 | SNOW WHITE | 3747 | RSGYC / NYC | Jill Fleming | Frank Burgess |
| 25 | Tba | Gbr4952 | Royal motor yacht club | David Tabb | Chewey Sherrell |
| 26 | The Gruffalo | Irl 3864 | NYC | Ian Mathews | Keith Poole |
| 27 | Triggers brush | Irl3896 | WHSC | Lee Statham | Andy Paul |
| 28 | Viking | 3970 | NYC | Sean Craig | Alan Green |