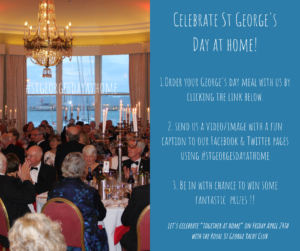 Due to the current events happening in Ireland we will be celebrating St. George's Day on Friday, 24th of April.
We invite all our members to join us with a freshly made meal from the George to celebrate this important day in our club.
We would like you to send us a video or image featuring an interesting caption & your chosen freshly made meal to our Facebook & Twitter pages using #STGEORGESDAYATHOME.
Entries can be submitted up until Monday the 27th, with winners announced at 5pm that evening.
Prizes include : A Freshly Made Meals voucher for four people, 1x RSGYC sailing jacket,1x RSGYC polo shirt & hand selected bottles of red & white wine.
Let's celebrate "together at home" on Friday April 24th with the Royal St. George Yacht Club.
Click here to order your meal today.