RSGYC sailors featured strongly in the Afloat.ie Sailor of the Year 2022. These sailors below are also nominated for our own Sailing Oscars in 2022.
Nominated on & courtesy of Afloat.ie are:
Sean Craig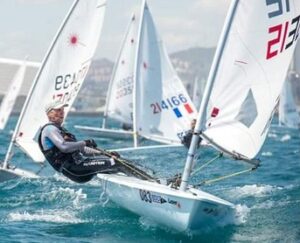 When you see Dun Laoghaire's Sean Craig (RStGYC) racing a solo dinghy, the last thing that springs to mind would be to categorizing him as a "Senior" or "Masters" sailor. Yet it was way back in 1993 – thirty years ago – that he won the Helmsman's Championship of Ireland in Larne while in the midst of an already prize-studded sailing career which has continued ever since. These days he's best known for being in the frame in various categories of international competition in the ILCA/Laser 6, his October 2022 achievement being to get on podium with the Bronze Medal at the EurILCA Masters Europeans at L'Escala in Spain on October 14th.
Fiachra & Caoilinn Geraghty-McDonnell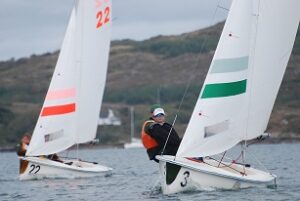 Although it will be ILCA6 National Champion Fiachra Geraghty-McDonnell's name on the trophy in the Junior Helms Nationals 2022, winning it was a family team effort, as his sister Caoilinn – a proven Optimist star – forsook her own place as of right as a junior helm, and elected to crew for her brother instead.
In a long and demanding series, their underlying quality of performance led to a steadily upward curve of results to make Fiachra the Junior National Champion at Schull, coming tops against a formidable line-up of established and rising talent from every leading sailing centre in the country.
Frank Guy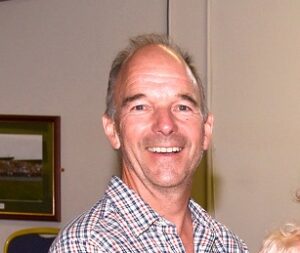 For most of their hundred years, the unique 18th Shannon ODs have kept themselves to themselves in their secret world of Ireland's great lakes. But in July 2022, they went unprecedently public with their Centenary celebrated in two special two-day regattas at their historic bases at Lough Derg YC (founded 1835) and Lough Ree YC (founded 1770). The month's fluctuating weather served up some very demanding conditions indeed, testing both light and heavy (sometimes very heavy) weather skills. It took dedication and skill to come in as overall leader in the combined results in the large fleet, but Frank Guy and his well-proven team on No 142 (built 1990) proved able for the challenge.
Fiachra Geraghty McDonnell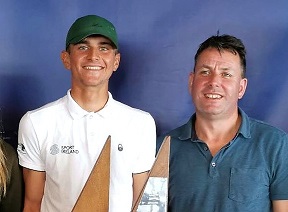 The most numerous and widespread dinghy class in Ireland is the ever-young ILCA/Laser. Yet even though a large fleet turned up for their Nationals in August at Tralee Bay, the fact that several sub-divisions took part with the class's different rig options makes it a challenge to name the outstanding performer. But in a close-called assessment, it was reckoned that Fiachra Geraghty-McDonnell of the Royal St George YC in Dun Laoghaire, winner after a countback in the ferociously close-fought ILCA6 Division, was the Afloat.ie "Sailor of the Month (Inshore)" for August.
Lucia Cullen & Alana Twomey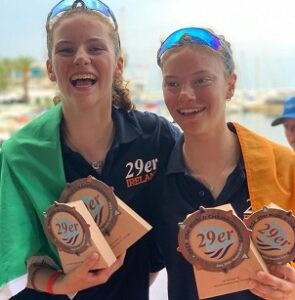 Lucia Cullen of Dun Laoghaire and Alana Twomey of Cork – both 16 – have combined to form one of Ireland's most successful 29er teams to such good effect that during August at El Bais in Spain, they became the 29er Under 17 Female World Champions in addition to taking Bronze in the Open Divison of the Female Worlds.
When added to their later winning – still in August – of the 29er Female National Title in addition to being U17 National Champions, it makes for a remarkably balanced picture of achievement when added to the fact that Alana Twomey was also a member of the winning team racing team at the top-level Elmo Trophy at RStGYC.
Ger Owens & Mel Morris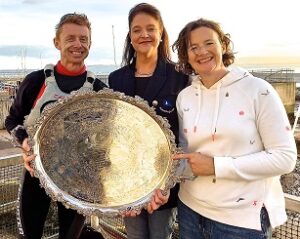 So many factors came into play for the 75th Anniversary of the Champions' Cup (aka the Helmsman's Championship or the All-Ireland) in GP 14s at Sutton Dinghy Club on October 8th/9th that its weather-imposed compression into a one day series made for a very intense mix. It went right to the wire, but the defending champion, RStGYC's Ger Owens (who won in National 18s in Crosshaven in 2021), and his regular GP14 partner Mel Morris of Newtownards SC (her father Curly Morris of East Antrim BC won in 1967), had moved smoothly into their dynamic duo routine, and as the sun set on a deceptively gentle evening which was the calm before the storm, the salver that now thinks it's a cup was theirs for the taking.
Club Nominations so far:
Commodore's Cup (Best Offshore Performance)
Aurelia – Chris Power Smith and Co
Lee Overlay – Adrian Lee and Co
Vice Commodore's Cup (Significant Dinghy Performance)
Sean Craig
Charlie Cullen
Ger Owens and Melanie Morris
Fiachra Geraghty McDonnell
Judy O'Beirne
Tom Higgins
O'Hanlon Cup (Best Cruise)
Peter and Annmarie Bowring and half the members on Terra Nova's first Summer around Ireland
D'Arcy and Crawford Families
John White and Siobhan O'Sullivan
Enriquetta Cup (Significant Keelboat Performance)
Aurelia and crew – Chris Power Smith
Yoyo and crew – Brendan Coghlan
Kevin Byrne and crew
Martin Bryne and Co
Michael O'Connor and crew
Causeway Trophy (For Sportsmanship)
Brendan Hughes
Rachel Crowley
Joanne Shelley
John Sheehy
Brendan and Sarah Foley
Elmo Team Racing Organisers & lead coach – David and Rowena Bolger, Mark and Aisling Little, Ronan Flood and Sarah Robson, Frank Elmes, John Sheehy, Finn Walker
Youth Trophy (Significant contribution to the Club by a Youth Sailor)
Fiachra and Caoilinn Geraghty McDonnell
Emily Conan
Jessica Riordan
Lucia Cullen and Allanah Twomey
Senior Instructors organising Autumn / Winter Training
– Toby Hudson Fowler, Henry Higgins, Sarah Fogarty, Peter Fagan, Cian Lynch
We are very proud of all of our RSGYC members nominated and ask for your support to vote for them now or to make your own nominations.
Please click on the link below, it will take 30 seconds. Please also pass this on so that we can give all the support available to all of our fantastic RSGYC sailors.