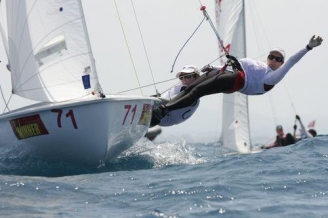 The 420 is an established worldwide performance two person trapeze and spinnaker racing dinghy.
There are 56,000 worldwide. This popular dinghy is sailed at school, club, open, national and international levels. There are many second-hand boats available, active clubs and excellent tuition for all levels.
Built in buoyancy tanks make the boat very safe even when inverted. The 420 is the youth development boat in 43 countries around the world and is the ISAF Youth World Championship boat. Despite the emergence of newer commercial driven classes and asymmetrics, the 420 is still the world's top youth training boat.
Specification
Length 4.2 m
Beam 1.63 m
Mast 6.26 m
Sails Main 10.25m2, Jib 2.8 m2, Spinnaker 9 m2.
Bare hull weight 80 kg min
Sailing weight 100 kg min
The ideal competitive combined crew weight is 17 to 23 stone (110-145Kg).